Zdenek Lhotsky
Glass Artist, Designer, Painter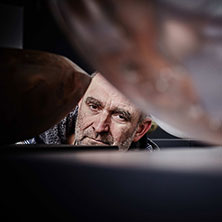 Zdenek Lhotsky is one of the most prominent contemporary Czech artists working with G1 PARTNERS. Zdenek Lhotsky's work has appeared in more than 250 exhibitions in Europe, USA and Asia and he received numerous prizes among others the German – Bavaria State Award for Design.
Zdenek Lhotsky (*1956 Prague) – painter, sculptors, glass artist, world renowned expert for glass casting technology. One of the founding memebers of the artistic group "Hard Headed". Since 1994 owner and art director of the studio for mould melted sculpture Lhotsky s.r.o. Lives and works in Pelechov in Železný Brod.
Education
1978–1984 Academy of Arts, Architecture and Design in Prague, Studio glass art, prof. Stanislav Libenský
1972–1976 High School of Applied Arts for Glassmaking in Železný Brod
1971–1972 Vocational School of Glass, Bohemia, Světlá nad Sázavou
Over 300 exhibitions in Europe, USA, Asia
I am experimenting with new methods to exploit the remarkable qualities of glass. Using casting, fusing, slumping, sandblasting, staining and painting to achieve my own artistic expression. During last 20 years I developed technology called Vitrucell – a process similar to float glass-making. I am using a polygonal sub-structure to create a luminous interplay of light, color and form.